Thank you letters from Timboni children
In 2019, we were delighted to receive Thank you letters from some of the children at Timboni school. We have highlighted certain comments below but please feel free to read their letters in full. We are sure that your hearts will be warmed. If any proof were needed of the fabulous work that has been done in Timboni School, Kenya, with the amazing donations and fund raising, this is it.
Note: the children say thank you for their new 'lockers'. In England we call them 'desks'.
In 2021, we were once more delighted to receive letters of thanks from the children. The children are particularly very thankful for their classrooms, their food, their teachers, their playing field and their library. A copy of these letters can be found in our News Updates or by clicking HERE
"the most beautiful school in the District... many parents wish to take their children to our school now"
Read her letter in full here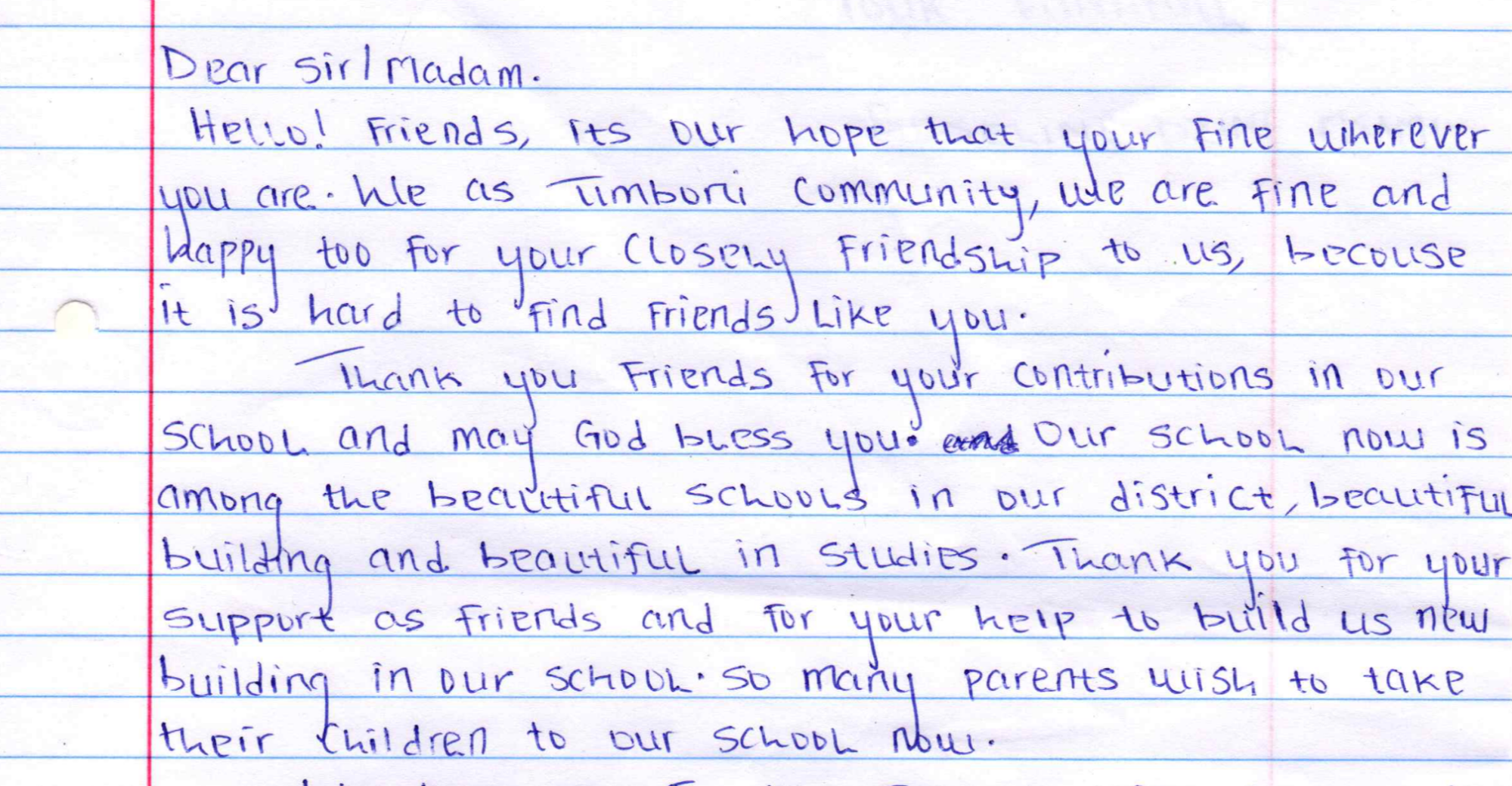 "Everyone was as happy as a sandboy to go on the school trip...

I can say that Timboni school is shining in our village because of its well painted walls and that makes Timboni famous...

Other pupils in other schools sit on stones ... their building is made from clay soil, trees and ropes"


Read Adnan Kea Katama's letter in full here

"The toilets that were built for us will help us prevent diseases like cholera, tuberculosis... the (malaria) nets that were brought for us helps us not to catch malaria all the time"


To read Caroline's letter in full click here
"You have funded us in many different areas:
1 classrooms - made learning smooth
2 toilets - prevent waterborne diseases
3 nets - we sleep under to prevent malaria
4 playground - we get best team
5 sports clothing - exercise our bodies
6 feeding program - really helps us
7 teachers - we learn all lessons
8 trips - exposure to many things of Eastern Africa
9 Lockers (desks) we learn comfortable"
To read Hazard's very detailed letter in full click here
"Our sincere gratitude ... we are happy because you love us as Timboni community... together we succeed"
To read Kelvin's letter in full and hear about his experience on the school trip (with snakes) click here
"Provided infrastructure: we are happy as a king ... building such as kitchen, office, staff room...
We still remember about our promise you gave us about the scholarship...
We have feeding program... no other school has feeding program except Timboni"
To read Fadkili's letter in full click here