Our Town Northwich - Published March 2018 Edition
Posted on
A self-funded visit to Timboni School
A party of eight friends, all supporters of the Northwich based charity Under the Mango Tree, has just returned from visiting Kenya. Under the Mango Tree (charity number 1156094) supports Timboni Nursery and Primary School that serves a poor rural community around 30km inland from Mombasa. The visiting party was made up of: Lorraine and Shaun Dunne, Davenham, Karen and Noel Owens, Hartford, Angela and Gordon Atkinson, Northwich Jean Ball, Morecambe Denver Shaw, Warrington.
For Angela and Gordon this was their fifth visit to the school since 2010 but for the majority of the team it was a first visit. One of the highlights was the official opening of a new classroom that had been funded by Under the Mango Tree supporters. The community came together to show displays of local dance and music; there was singing and acting from the pupils and speeches from school staff, village leaders and the local education department. Once the ribbon was cut and the door unlocked, 30 pupils swarmed into their new classroom, shouting with joy to take a place at their new desks. The UK team were amazed to see children so genuinely and spontaneously happy to enter a school classroom! It shows just how important and valued access to education is for this community.
Karen and Noel Owens said:
"A few Kenyan shillings go a long way in the arid countryside beyond Mombasa. As soon as we arrived at Timboni School we understood why our friends Gordon and Angela felt so committed and passionate about helping these children, from Nursery class to Primary Year 8, to gain an education. Without the essential funding from Under the Mango Tree these children would never be able to reach their full potential and enter the workplace. The children were so happy to meet us and their smiles lit up our hearts. We are proud to support UTMT and will continue to do so." UTMT's overall mission is to enable the school to become self-sufficient.
Lorraine & Shaun Dunne commented:
"It is incredible to think that from some initial resistance to formal education in 2000, and despite the lack of any consistent funding from the Kenyan authorities, the school has flourished growing from a few toddlers gathered under an old mango tree to a multi-room school that serves over 300 meals twice a day to an impoverished school community." There is still much to be done including providing a playground and equipment, but UTMT is proud of its supporters when their efforts are so obviously appreciated. The local education department has now recognised the school's educational achievements and UTMT hope for improved teacher funding.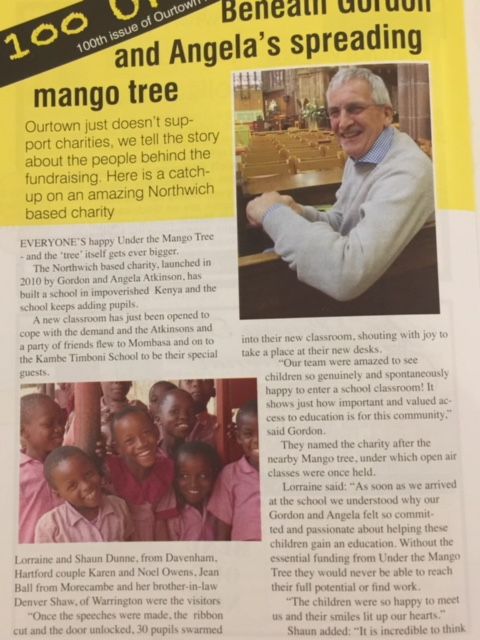 Gordon Atkinson, Chair of Trustees said: 

"The overriding outcome of the visit is that we have been able to confirm that this school is doing well. As always there is still much to be achieved before the school and community are fully self-sufficient such as providing basic infrastructure, but we will continue to work hard to assist." 

The team travelled around Kenya meeting local craftsmen and buying items for resale back in the UK. 

Angela Atkinson says: "Buying these items helps to support the local economy and then any funds raised in the UK will be returned to Kenya as investment in the school. We are planning a number of sales events in 2018. If you feel able to support this work in any way at all please do contact us and we are very happy to come to your club, Church or association to give a talk."